New Year Celebration in Jawai
New Year's is a time of worldwide joy, renewal, and festivity. In Jawai, a quaint and culturally rich region of Pali district in the heart of Rajasthan, the New Year celebrations take on a unique and interesting character. From sparkling fireworks to mesmerizing folk dances, from delectable cuisines to traditional rituals, Jawai offers a delightful tapestry of experiences that will leave travellers with cherished memories. Planning a Jawai New Year Tour Package offers a unique and memorable experience in life.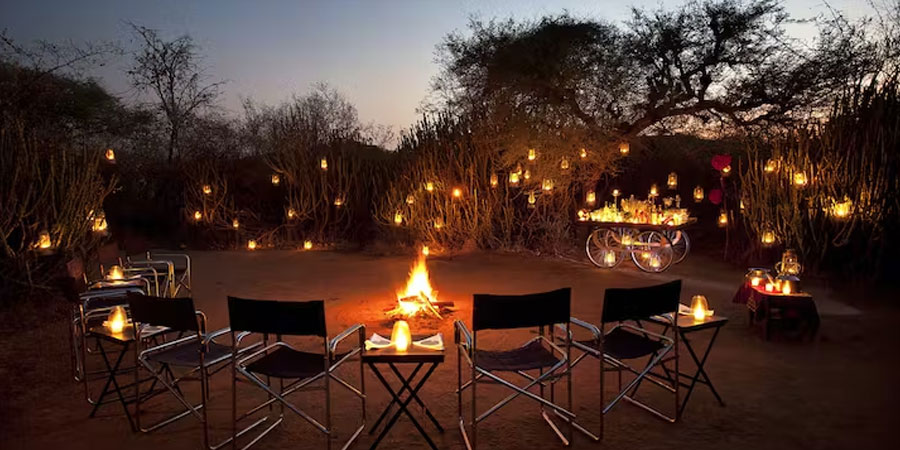 This article explores the vibrant traditions, customs, and celebrations that make Jawai a captivating destination to ring in New Year 2024.

Historical and Cultural Significance –
Jawai is widely renowned for its glorious history and cultural heritage living of local tribes. The region is home to many ancient temples with many traditions passed down through generations. Its strategic location on the Aravalli hills turns it more picturesque and breathtaking with diverse flora and fauna. As the New Year approaches, Jawai comes alive with deep cultural pride and enthusiasm. Many travel freaks or romantic couples plan their peaceful getaway to Jawai to spend the new year in this beautiful landscape.

Preparations and Decorations –
In the days leading up to the New Year, Jawai Resorts undergoes a beautiful transformation. Streets are adorned with colorful lights, vibrant decorations, and traditional motifs. Homes, public spaces, hotels, and resorts are embellished with flowers, and rangoli, symbolizing prosperity and good luck. The atmosphere is filled with anticipation and excitement.

Traditional Rituals and Customs –
On the eve of the new year, a few best resorts in Jawai hosts various traditional rituals and customs for their guests. One such ritual is offering prayers at local temples. Devotees flock to sacred sites to seek blessings for a prosperous year ahead. The ringing of temple bells and the chants of hymns create a spiritual ambiance. Another customary practice is exchanging sweets and gifts among family and friends. This gesture symbolizes goodwill, love, and unity.

Cultural Performances for entertainment –
Jawai's New Year Celebrations are incomplete without its vibrant cultural or traditional performances. Many folk dances like Ghoomar and Kalbeliya are performed to show the region's rich artistic traditions. Artists are dressed in colorful traditional attire, adorned with intricate jewelry, captivating the audience with their gracious movements and rhythmic footwork. Musical performances featuring dholak, sarangi, and harmonium are played on the rhythmic beats of songs. The cultural evening followed by a bonfire, entertains the guests.

The Grand Feast to Gorge on –
After the cultural celebrations, now it's time to turn on the savory mode. Local families and communities come together to prepare and savor traditional Rajasthani delicacies. In the best luxury resort in Jawai, many delicious cuisines are served to guests, making the evening memorable for life. Some delicious cuisines like dal bati churma, gatte ki sabji, ker sangria, grace the tables, offering a delicious culinary experience. The aromatic feel of spices and rich flavors of Rajasthani cuisines add to the festive spirit.

Fireworks Display and Celebratory Processions –
On New Year's Eve, when the clock ticks down to midnight, Jawai is illuminated by an amazing fireworks display. Brilliant flashes of color fill the night with excitement and surprise as they brighten it. The fireworks represent the celebration, fresh starts, and expectation of a good year ahead. In addition to the fireworks, Jawai New Year's celebrations frequently feature festive processions. Local communities and cultural organizations host colorful parades featuring traditional music and dance performances. The streets are filled with vibrant floats carrying statues of gods and flowers, creating a colorful and joyful scene.

Reflection and Resolutions –
In Jawai, the New Year is also a time for introspection and making resolutions. Many people use this time to reflect on their previous year's experiences, accomplishments, and lessons. They reflect on their lives and use this opportunity to make constructive adjustments. Personal objectives like establishing better routines, exploring new interests, or enhancing connections are examples of resolutions.

Conclusion –
The New Year festivities in Jawai are a rich tapestry of customs, traditions, and celebrations. The spirit of the occasion permeates every nook and cranny of this intriguing location, from the brilliant fireworks and jubilant processions to the meditation and resolutions. When planning a holiday in Jawai during the new year, booking a relaxing stay at Agvani Resort is highly recommended. The resort offers an amazing setting to ring in the New Year with joy and cultural immersion because of its historical significance, kind hospitality, and lively events.